Inti Valderas Caro
UX & voice designer
With a great passion for technology and design, Inti applies his own experiences and knowledge into his work and helps the team creating features that make sense and are tailored to the needs of the user.
As a huge tech-lover, Inti loves experimenting with new technologies such as voice systems, AR, VR and so on. You'll always find him working on projects based on the newest technologies.
You can send him dog-videos or talk about anything that includes new technology, Marvel movies, or some new crazy thing that Elon Musk has done.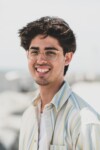 Articles by Inti